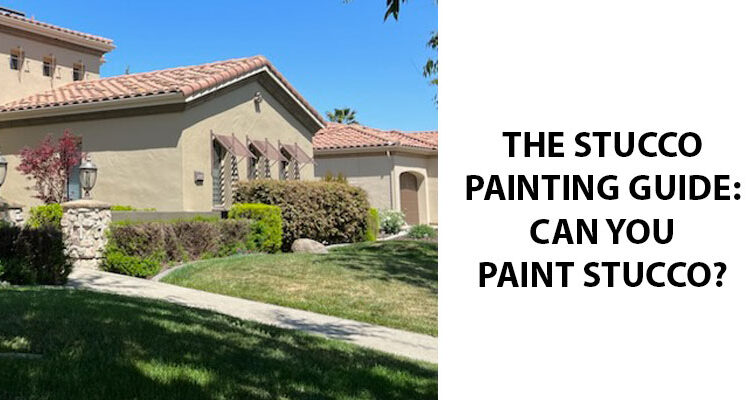 25
Oct
Blaze
House Painting
Comment (0)
Stucco, known for its distinct texture and makeup, poses some unique challenges in the painting process. Painting stucco requires a level of care and technique that you might not worry about with smoother surfaces. This guide on stucco painting will take you through all the important steps to get your stucco surfaces ready and painted the right way. We're going to cover everything – from picking the perfect paint and tools to the proper application methods, all to make sure your stucco looks great for years to come. 
If you live in the Sacramento area and want your house painted, we can help. Click the button below to request a free estimate or call us at (916) 424-4008! We serve the entire Northern Sacramento area. 
Can You Paint Stucco? 
Yes, you certainly can paint stucco. In fact, painting stucco is a popular way to refresh the exterior of your home and protect the stucco surface from the elements. However, stucco is a porous material, so it requires special preparation and the right type of paint to ensure a long-lasting, beautiful finish. 
Best Paint For Stucco 
Acrylic Latex Paint
Generally speaking, the best kind of paint to use on stucco is a high-quality, 100% acrylic latex paint. This type of paint is breathable, flexible, and durable, making it ideal for stucco surfaces. It allows moisture to escape from the stucco, which helps prevent blistering, peeling, and other damage caused by trapped moisture. Acrylic latex paint also provides excellent coverage, adheres well to stucco, and is resistant to fading and chalking. It's also preferred over other exterior paints because it's flexible enough to accommodate the natural expansion and contraction of the stucco surface, which helps prevent cracking. 
Elastomeric Paint
Some people also have great success using elastomeric paint on their stucco walls. This special, rubberized paint is known for its protective properties and longevity. When applied correctly, elastomeric paint can extend the life of your painted stucco because of its thickness and water-resistant properties. 
The drawbacks of elastomeric paint are that it doesn't breathe well and therefore can trap moisture under the stucco surface. This can lead to mold and mildew issues down the road, causing major damage to your stucco.
Before choosing a stucco paint for your home's exterior, talk with your neighbors and see what type worked well for them. If they've had success with elastomeric paint, chances are you will too. 
What Paints Not to Use With Stucco 
When you're getting ready to paint stucco, you want to steer clear of certain paints that don't play nice with its porous and textured vibe. Check out these paints you might want to skip: 
Oil-Based Paints
Oil-based paints, also known as alkyd or solvent-based paints, are not recommended for stucco. They can trap moisture inside the stucco, which can lead to blistering, peeling, and other forms of damage. Additionally, they tend to be less flexible, which can result in cracking as the stucco expands and contracts. 
Non-Breathable Paints
Stucco is a porous material, and it's important to use a paint that allows the material to "breathe" by letting moisture escape. Non-breathable paints can trap moisture within the stucco, causing damage over time. 
Low-Quality Latex Paints
While high-quality acrylic latex paints are ideal for stucco, low-quality latex paints may not provide the same level of durability and flexibility needed for stucco surfaces. These paints might not adhere well to the stucco and can peel or fade more quickly. 
Painting Stucco Preparation Tool List 
Here's a list of tools you'll want to have on hand when preparing for a stucco painting project: 
Pressure washer or stiff brush 

Cleaning solution 

High-quality stucco repair product 

Putty knife or spackle tool 

Painter's tape 

Drop cloths or plastic sheeting 

Masonry primer or sealer (if needed) 

Mixing tool 

Bucket and sponge (for cleaning and rinsing) 

Work gloves and safety glasses for protection 

Paint trays or buckets (for applying paint)

Paintbrushes and rollers (medium nap roller) 
How to Paint Exterior Stucco Walls 
Clean the Surface
Use a pressure washer or a stiff brush with a detergent solution to clean the stucco surface thoroughly. Remove dirt, dust, mildew, and other debris. Allow the stucco to dry completely before proceeding. 
Repair Damage
Inspect the stucco for cracks, holes, or other damage. Use a high-quality elastomeric patching compound or stucco repair product to fill and repair any imperfections. Smooth the patched areas with a putty knife and allow them to dry thoroughly. 
Prime the Surface
If your stucco has never been painted before or if it has been a while since the last paint job, apply a masonry primer or sealer to create a smooth, even surface for the paint to adhere to. 
Apply Painter's Tape
Use painter's tape to protect windows, doors, trim, and other areas that you don't want to paint. Cover landscaping, walkways, and other surfaces with drop cloths or plastic sheeting to protect them from paint splatter. 
Mix the Paint
Stir the paint thoroughly to ensure an even consistency. If necessary, thin the paint according to the manufacturer's instructions. 
Apply the Paint
Use a paintbrush or roller with a nap cover suitable for textured surfaces to apply the paint. Work in small sections, using long, even strokes. Be sure to get the paint into all the nooks and crannies of the textured surface. 
Allow to Dry and Apply Second Coat
Allow the first coat of paint to dry completely before applying a second coat. The second coat will provide added durability and a more even finish.
Clean Up
Remove the painter's tape while the paint is still slightly wet to avoid peeling. Clean your brushes, rollers, and other tools with soap and water.
Best Exterior Stucco Paint Colors for California 
Choosing the right exterior stucco paint color for your California home can greatly influence its overall curb appeal and aesthetic. Some of the best exterior stucco paint colors for California homes include:
Warm Neutrals:

Warm neutral colors like beige, taupe, and sand can complement the natural beauty of the California landscape. These colors also reflect sunlight, helping to keep your home cooler in the hot California sun. 

Earthy Tones:

Earthy tones like terracotta, clay, and rust can provide a warm and inviting look to your home. These colors work well with the Mediterranean and Spanish-style architecture commonly found in California. 

Cool Grays:

Cool grays can provide a modern and sophisticated look to your home. These colors work well with contemporary architectural styles and can also help to reflect sunlight and keep your home cooler. 

Ocean Blues:

If you live near the coast, think about possibly using shades of blue that reflect the colors of the ocean. Light blues, turquoise, and teal can create a relaxed and beachy vibe. 

Desert Hues:

If you live in a desert area, consider using natural colors of the desert landscape, such as sandy beige, muted browns, and sage greens. 

White and Off-White:

White and off-white tones can create a clean, classic and timeless look. 
When selecting a paint color for your stucco home, be mindful of the architecture of your home, the natural surroundings, and the amount of sunlight your home receives. It's also a good idea to consider testing a few colors on small sections of your stucco to see how they look in different lighting before making a final decision. 
The Stucco Painting Guide Conclusion 
Painting stucco requires special attention to detail and the right materials to achieve a long-lasting, beautiful finish. Proper preparation, including cleaning, repairing, and priming, is essential, as is selecting the right paint and tools for the job. At Diamond Star Painting, we're well-versed in working with stucco and other masonry associated with California architecture and style. With our expertise, you can trust us to not only make your biggest asset look great for years to come but to also ensure it's protected from the elements. Let us help you bring your vision to life with our professional stucco painting services.