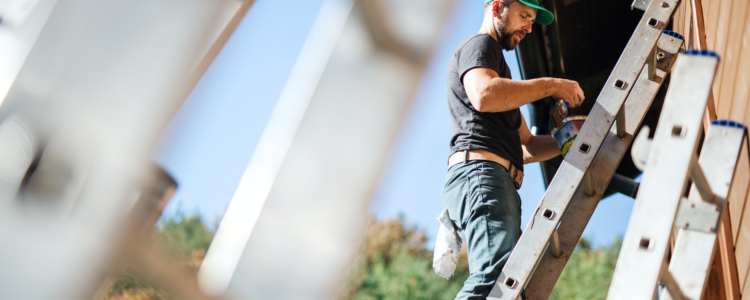 05
Feb
dspuser45426
Exterior Paint
Comment (0)
Spring is right around the corner, which means it's time to start thinking about the exterior paint on your home. At Diamond Star Painting, we want you to have an exterior you'll be proud of – and that all starts with three main components: preparation, product, and application.
Preparation
Preparing the exterior of your home properly is extremely important. The first steps we take are to remove any mildew with a bleach solution and then pressure wash your home to remove any dirt, dust, mold, and cobwebs. This helps the paint adhere to the surface properly and go on evenly, which ensures it will have lasting durability. It's also an important step to take for aesthetics. Once the paint dries, any dirt or dust on the surface will cause areas of the exterior to look uneven. After the surface has been thoroughly cleaned, we let the exterior dry.
Once everything is dry, we scrape and sand areas with flaking paint or exposed wood, which creates a smooth surface for the paint to adhere to. This is also the perfect time to inspect the exterior for any signs of damage and reset loose nails on the siding, trim, and eaves. We'll go through and patch any cracks in the stucco or boards, repair leaky gutters, and remove and replace any fixtures as needed.
Caulking is another important step for non-stucco homes; not only does this help to enhance the appearance of the paint after it dries, but it also helps to keep your home insulated. Beyond that, it also prevents insects from coming in, prevents condensation buildup on the windows, and keeps the moisture out of nail holes. We also fully cover all windows and gardens prior to application to ensure everything stays clean and paint-free.
Product
Once all the preparation has been completed, we can start the application process. For the best results, however, it's important to choose the right product. Like most things, you get what you pay for when it comes to paint! Lower-quality paints may save you money in the short run, but long term, you'll likely be unhappy with the results.
High-quality paints are meant to last in all types of weather conditions for many years because they use the best binders (or resins) available. These adhere to surfaces better, giving you a more attractive paint job and preventing peeling, cracking, blistering, fading, and chalking. They also inhibit mildew and mold growth. Another benefit of high-quality paint is that it has more pigmentation than low-quality paint, so it offers better coverage, color, and depth.
Using high-quality paint also reduces how often you'll need to repaint your exterior. Cheaper paint may last anywhere from a year to several years, whereas a high-quality paint can easily protect your home for 15 years or more. For this reason, we use only high-end, 100% acrylic products from Sherwin Williams and Kelly Moore.
Application
Like the preparation stage, the application is incredibly important for achieving beautiful results. All bare areas are primes, including metal gutters and downspouts, stucco, and wood.
An important factor to consider is that we're applying paint with the proper thickness and the right type of paint for the surface.
We take the time to make sure we're working with paint with the proper thickness and the right paint for the surface. For the trim, we use Sherwin Williams duration and a high-end Sherwin Williams acrylic. Of course, if you prefer Kelly Moore, we're happy to use that instead! When it comes to exterior paint you have the choice between flat and low-luster. We use a semi-gloss for doors and satin for the trim.
Once all the details are worked out, the preparation is complete and the primer is dry, we can begin painting your home, taking care to ensure there are no drips, sags, or runs. Once all the painting is complete, we make sure to clean all your walkways, sidewalks, and unpainted areas, so your exterior looks flawless!
Hopefully, this has given you a better idea of what to expect with your home's exterior painting! If you're planning to re-paint this year, give Diamond Star Painting a call at (844) 395-2257 or visit us at diamondstarpainting.com. We also provide interior and ceiling painting, cabinet and deck refinishing, and commercial painting. We're always happy to answer any questions you have or provide a free quote!
CALL US TODAY!
(844) 395-2257