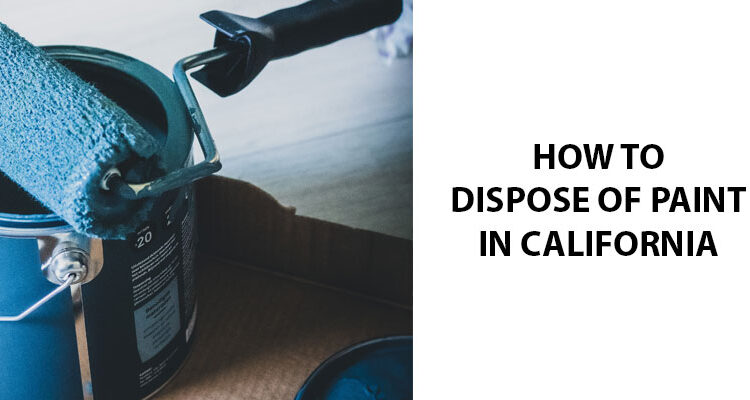 27
Sep
Blaze
House Painting
Comment (0)
If you're wondering how to dispose of paint in California, you're not alone. The state has some of the strictest environmental laws in the nation, including paint disposal. Whether you've got a stash of old oil paint or empty cans of latex paint, there are specific protocols you need to follow to throw the paint away. The laws in California are slightly different than those in other states, so you need to make sure you take the appropriate steps. Most importantly, pouring the paint down the drain is never an option as paint is a hazardous material. 
So how exactly do you get rid of paint in California the right way? Read on to learn everything you need to know. 
If you live in the Sacramento area and need your home painted, we can help! We'll handle all of the paint disposal, prep work, clean up, etc. Click the button below or call us at (916) 424-4008 to get your free estimate on interior or exterior painting. We cover everywhere from Yuba County, Sacramento, Roseville, and more!
How to Dispose of Paint in California
In California, it is illegal to throw paint of any sort away in a landfill. Oil paint is a hazardous material, so it needs to be disposed of properly. Because latex paint is presumed hazardous in California, it is treated in a similar manner. In order to ensure that paint is properly recycled or disposed of, California created a paint stewardship program to handle the collection, recycling, and disposal of paint. 
Disposing of Water-Based Latex Paint
In other states, latex paint can be thrown out with other solid waste once it has fully dried. However, there are different regulations for how to dispose of paint in California. If you need to get rid of water-based latex paint, you cannot intentionally dry it out on your own. Instead, you need to take your old latex paint to one of California's many paint drop-off locations. Even if you find the latex paint has dried out on its own, you'll need to take it to an appropriate location. 
How to Dispose of Oil-based Paint
Oil-based paint is a hazardous material, so the only option for safe disposal in any state is to take it to a hazardous material collection center. California's Paint Stewardship Program handles the collection of paint. All you need to do is find a PaintCare drop-off center in your area. Typically, these centers accept up to five gallons of paint per drop-off. 
How to Dispose of Empty Paint Cans in California
While throwing out paint takes a bit of foresight, disposing of empty paint cans is a different matter. If your cans of paint are empty, you can either recycle them or throw them out with your solid waste. Most recycling centers in California accept empty paint cans. 
Where to Dispose of Paint in Sacramento
If you live in Sacramento, you have a few different options for disposing of paint. First, you can go to the PaintCare website to find a drop-off location at one of the area's many paint retailers. In addition to the retail take-back sites, Sacramento County has a number of regional Household Hazardous Waste facilities that accept old paint.
How Long Can You Store Paint After It's Opened?
Once opened, most cans of paint last between two to five years. Taking the right precautions when storing your paint will ensure that it lasts longer. 
Does Paint Go Bad?
Unopened paint has a long shelf-life–up to ten years for latex paint and up to fifteen for oil-based paint–but it can still go bad. Determining if paint has gone bad involves checking for different signs. Oil-based paint that has been properly stored and sealed is much less susceptible to spoiling than latex paint, but it's still important to check. 
For oil-based paint, here are some of the signs the paint is spoiled: 
Smell: Check for a rancid or foul odor. 
Separation: Look for separation of liquid and solids. If it doesn't mix well after stirring, the paint has likely gone bad. 
Texture: Lumps, curdles, or a stringy texture are usually good indicators that the paint is bad. 
Mold or mildew: Any mold or mildew on the paint surface means that the paint has spoiled. 
For latex paint, here are some signs the paint has gone bad: 
Smell: A foul or strong odor might indicate spoilage. 
Consistency: If the paint is extra thick or has a rubbery texture, it has probably spoiled.
Separation: Check for separation. If the paint mixes well, it's probably okay. However, if there are still lumps after mixing, you don't want to use the paint. 
If you notice these signs, it's best not to use the paint, as it won't perform well and will lead to unsatisfactory results. Proper storage and regular checks can help prolong the lifespan of paint.
Can You Store Paint in the Garage?
While it may be tempting to store leftover paint in your garage, it's generally not a good idea. Paint that's exposed to temperature fluctuations tends to go lumpy, which is definitely not ideal. Lumpy paint should be taken to a PaintCare center or other hazardous waste collection site.  
Where Should You Store Paint?
So if you shouldn't store paint in the garage, where should you store it? Following these tips for storing paint will increase its longevity: 
Avoid extreme temperatures: One of the most important steps for properly storing paint is to keep it in a cool, dry area away from direct sunlight. Typically, this will be somewhere inside your home. 
Seal containers: Ensure the paint can or container is tightly sealed to prevent air exposure. If paint gets into the rim, make sure you clean it out before replacing the lid. You can use a rubber mallet to hammer the lid back in place for a good seal. 
Label clearly: If you store the paint in a container other than the can it came in, make sure to label it with the paint color, date, and application for easy identification. 
Store upright: Keep the containers upright to prevent leakage and maintain a proper seal. 
Keep it off the floor: Elevate paint containers slightly to avoid contact with a cold or damp floor. 
Regularly check: Periodically check stored paint for any signs of spoilage or separation. If needed, stir or shake the paint gently to restore consistency. 
How to Dispose of Paint In California Summary
So there you have it. Now you know how to dispose of paint in California. California prohibits the disposal of any kind of paint on land or in water. This means that you cannot throw old paint out with your solid waste. Instead, you'll need to find a PaintCare or household hazardous waste collection site near you. To ensure your paint lasts for a long time, make sure to properly seal the container, keep it somewhere temperature-controlled, and store it off the floor. 
If you have questions about disposing of paint in California or painting your home, you can contact Diamond Star Painting today. With a few cans of paint, we can transform your home. We do interiors, exteriors, cabinets, and more.