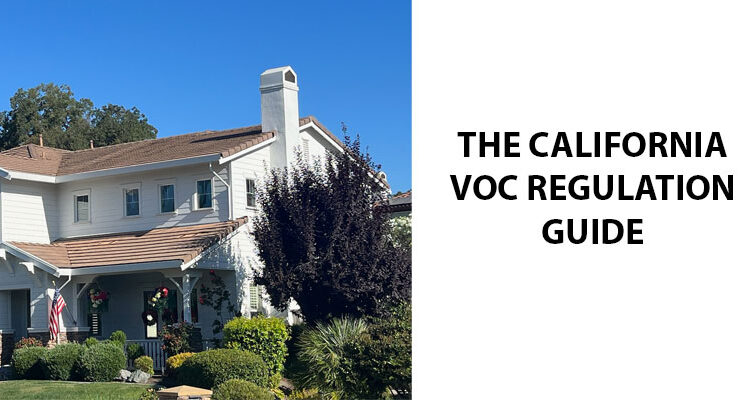 16
Nov
Blaze
House Painting
Comment (0)
The California VOC regulations are part of the state's effort in the ongoing battle against air pollution. These regulations, which target the emission of Volatile Organic Compounds (VOCs), are not just a set of rules California has implemented to safeguard the environment. As we look into the intricacies of these regulations and their impact, you'll see how they affect you in various ways. For example, you can't hire a paint company to paint your house if it was built before 1978. Read on to learn more about California's VOC regulations. 
If your house is in the Sacramento area and was built after 1978 and you'd like to get it painted, click the button below to get your free estimate or call us at (916) 424-4008.
What are VOC Regulations?
VOCs are a group of chemicals that easily evaporate at room temperature and can have significant health and environmental impacts. VOC regulations are designed to limit these emissions from various products, including paints and coatings. The goal of these regulations is to reduce air pollution and protect public health by setting standards for the amount of VOCs that can be emitted.
Why is VOC Bad?
VOCs are harmful because they contribute to the formation of ground-level ozone and smog, which can cause respiratory problems, eye irritation, and other health issues. Some VOCs are known to be carcinogenic. By reducing VOC emissions, we can improve air quality and public health.
What are California's VOC Regulations?
California VOC regulations are among the strictest in the United States. The California Air Resources Board (CARB) sets these regulations to control VOC emissions from various sources. These regulations are crucial because California, with its unique geography and climate, is particularly susceptible to the harmful effects of air pollution.
What are California's VOC Laws?
California VOC laws are a set of legal requirements that enforce the state's VOC regulations. These laws cover a wide range of products and industries, mandating reduced VOC content in products and stricter control measures for VOC emissions in industrial processes.
What are the California Low VOC Paint Requirements?
California low VOC paint requirements are a significant part of the state's effort to reduce VOC emissions. These regulations set limits on the VOC content in paints and coatings, ensuring that only low-VOC products are used in construction and renovation. 
What are VOC Standards?
VOC standards refer to the specific limits set on the amount of VOCs that can be emitted from products or during industrial processes. These standards vary depending on the product and its use but are essential for guiding manufacturers and industries in producing environmentally friendly and health-conscious products.
What are the Maximum VOC Levels Allowed in California?
The maximum VOC levels allowed in California vary by product category. For example, the state sets different VOC limits for consumer products, architectural coatings, and automotive refinish products. These limits are continually reviewed and updated to reflect the latest scientific understanding and technological advancements.
How the VOC Regulations Affect What Houses Can Be Painted
California VOC regulations significantly impact house painting practices. Paint manufacturers must adhere to the low VOC paint requirements, influencing the types of paints available on the market. Consequently, homeowners and contractors in California must choose paints that comply with these regulations, ensuring safer indoor air quality and contributing to statewide efforts to reduce air pollution.
California VOC Regulation Conclusion
In conclusion, California VOC regulations primarily establish strict limits on the emission of Volatile Organic Compounds from various sources, including paints and coatings. These regulations directly influence the house painting industry in California, requiring the use of paints that comply with specific low VOC standards. This aims to ensure that the paints used in residential settings contribute less to air pollution and are more environmentally friendly, aligning with the state's broader goals of reducing VOC emissions.